08 kwietnia 2021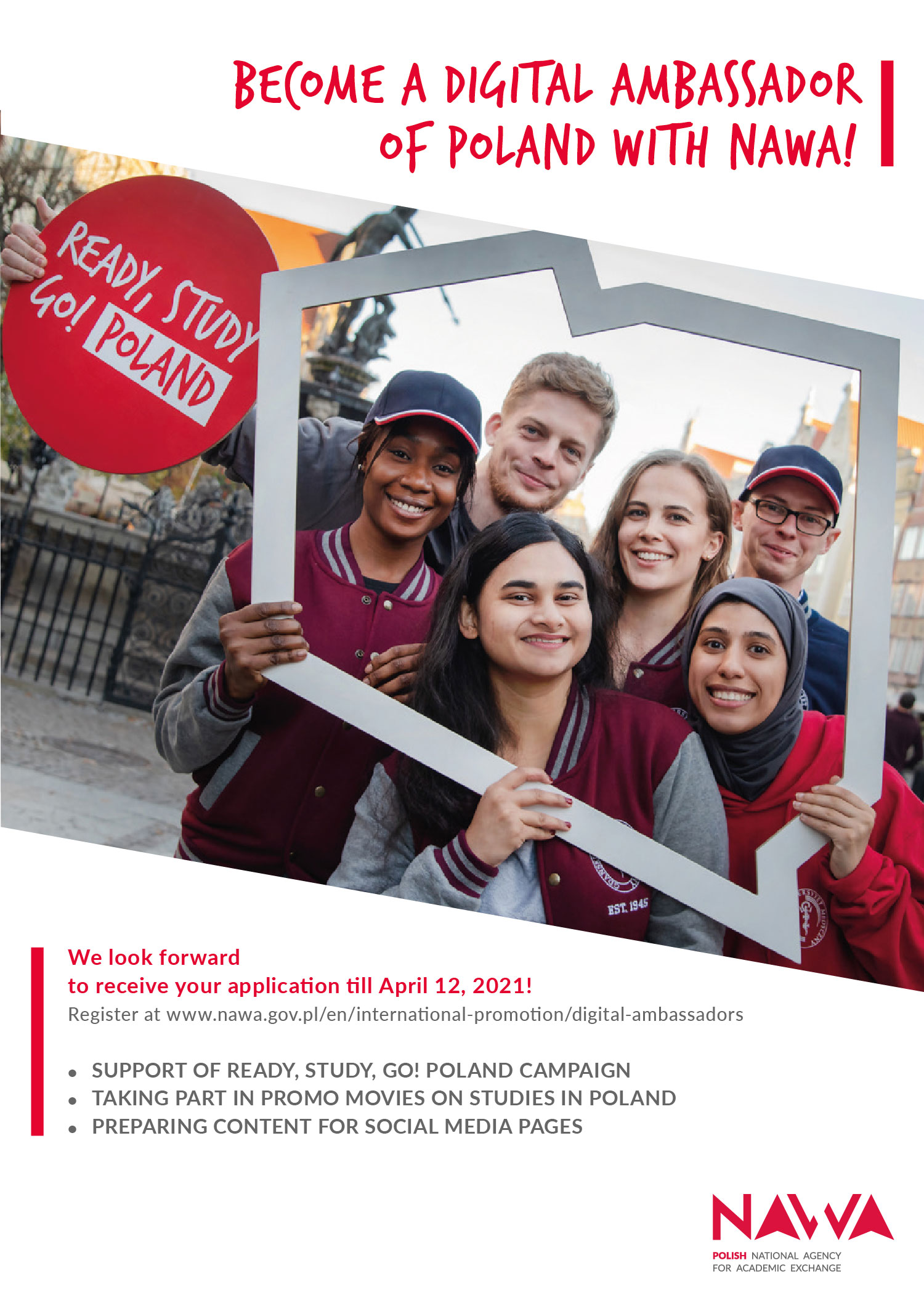 The second edition of contest Digital Ambassadors of NAWA has just been launched!
NAWA is looking for the foreign students/ graduates of Polish universities who would like to help to promote Poland online!
If you are you a student or alumni of Polish university and you feel that your Polish experience is something special would like to share it with the world, NAWA has the right opportunity for you!
Join efforts of NAWA's Department of Communication and Promotion and become a Digital Ambassador of Poland!
Hurry up! NAWA is waiting for your application until April 12!
We encourage students that were awarded a NAWA scholarship (Gen. Anders, Poland My First Choice, Banach or Łukasiewicz program) to apply!
Further information can be found here: https://nawa.gov.pl/en/international-promotion/events/events-timeline/digital-ambassadors-2021
---
01 lutego 2021
For students who currently live in dormitory – accommodation will be extended automatically until July 5th, 2021.
Students who currently do not live in dormitory but want to accomodate for summer semester of academic year 2020/2021 – please contact Office for Student Affairs (bsstud@adm.uw.edu.pl) in order to get a referral within available free places in dormitories.
---
10 listopada 2020
Welcome Point would like to invite you to a new online meeting on crimes motivated by prejudice, which will be led by the Association for Legal Intervention.
Programme of the meeting:
Presentation (approx. 45 min)
what kinds of behaviour are bias crimes
when is the Police obliged to act?
I fell victim to a crime – and what next?
my rights and obligations as a victim
Practical exercise on descriptions of specific behaviors: is this a crime? (20 min)
Questions from participants (25 min)
The meeting will be held on 17th November at 1.30 pm.
To participate, please register through this link: https://forms.gle/hdo7YCMRa9o29sQL7
Application deadline: 12th November 2020
More information can be found on our website: http://welcome.uw.edu.pl/crimes-motivated-by-prejudice-online-meeting/
Please also join Facebook event: https://www.facebook.com/events/367864871167416/
---
19 października 2020
In the academic year 2020/2021, applying for a place in the dormitory from the pool of free places will be held online via the Registration.
October 19, 2020, at 20:00, the registration for Student's Dormitories of the University of Warsaw will be activated. If you apply for a place from a pool of free places, no statement of income or additional preferences will be taken into account. [ more ]
---
15 lipca 2020
Foreign students (long-term studies) – procedure of applying for accommodation in the academic year 2020/2021 [more]
---
16 czerwca 2020
The procedure is dedicated for students who are accommodated in the dormitory but do not live there and for various reasons are not able to collect their things personally and settle the dormitory.
In that situation, the Student should write the authorization himself and send a scan or photo of the authorization from the student's e-mail to the e-mail address of the dormitory in which she/he is accommodated. Student may authorize another resident of the dormitory by providing her / his name, surname, index number and ID number (ID card, passport) to:
– payment of fees if there is an arrears in payments,
– take all Student's belongings out of the room, clean the room and put the Student's belongings in the dormitory's storage room,
– receive a deposit.
The condition for returning the deposit is, among other things, to pay for the dormitory.
You can check out from Monday to Friday from 9am to 1pm. Earlier you must inform the dormitory administration by e-mail about your intention to check out.
Contact to our Dormitories: http://enbss.uw.edu.pl/dormitories/
---