08 kwietnia 2021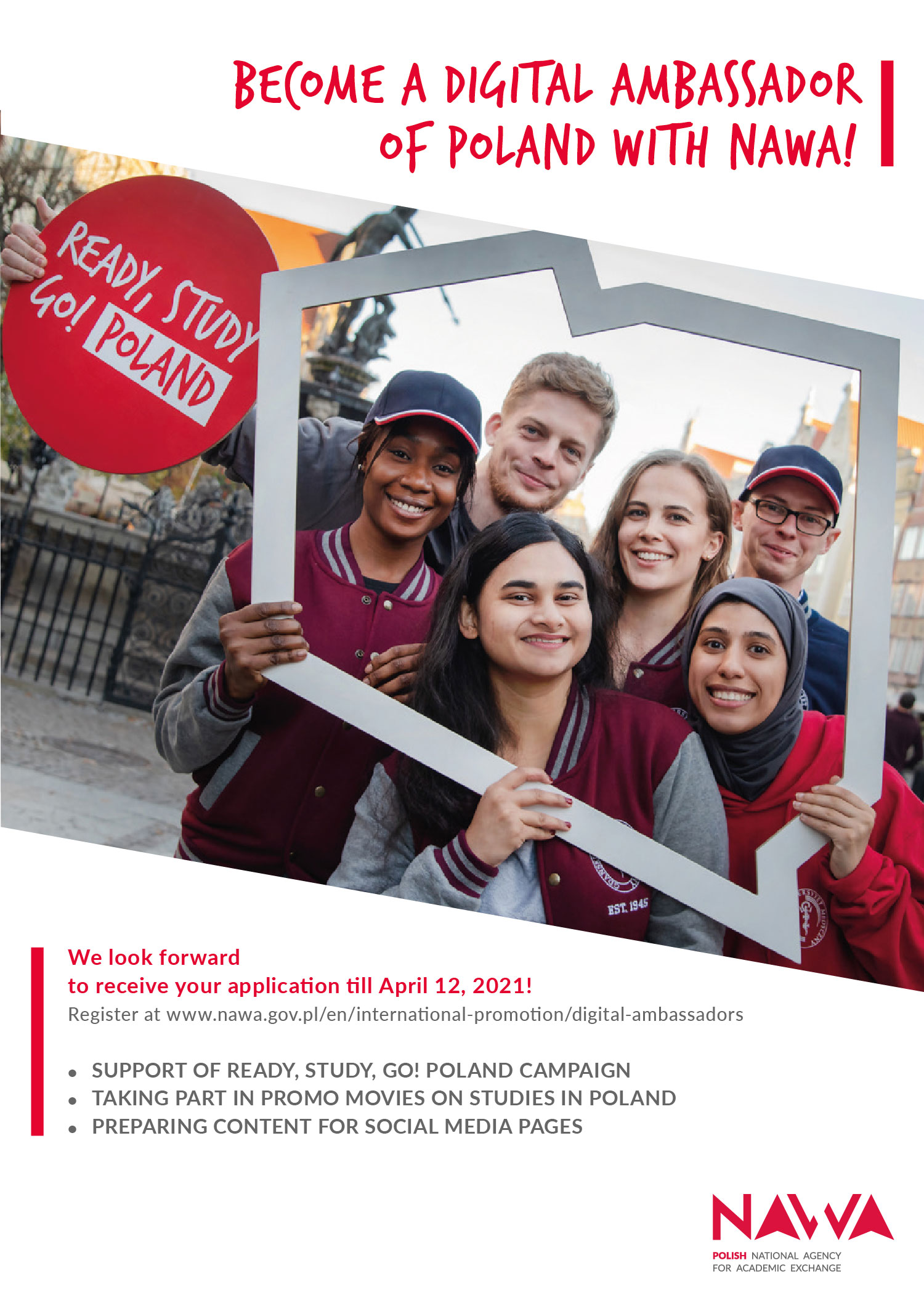 The second edition of contest Digital Ambassadors of NAWA has just been launched!
NAWA is looking for the foreign students/ graduates of Polish universities who would like to help to promote Poland online!
If you are you a student or alumni of Polish university and you feel that your Polish experience is something special would like to share it with the world, NAWA has the right opportunity for you!
Join efforts of NAWA's Department of Communication and Promotion and become a Digital Ambassador of Poland!
Hurry up! NAWA is waiting for your application until April 12!
We encourage students that were awarded a NAWA scholarship (Gen. Anders, Poland My First Choice, Banach or Łukasiewicz program) to apply!
Further information can be found here: https://nawa.gov.pl/en/international-promotion/events/events-timeline/digital-ambassadors-2021
---
01 lutego 2021
For students who currently live in dormitory – accommodation will be extended automatically until July 5th, 2021.
Students who currently do not live in dormitory but want to accomodate for summer semester of academic year 2020/2021 – please contact Office for Student Affairs (bsstud@adm.uw.edu.pl) in order to get a referral within available free places in dormitories.
---
10 listopada 2020
Welcome Point would like to invite you to a new online meeting on crimes motivated by prejudice, which will be led by the Association for Legal Intervention.
Programme of the meeting:
Presentation (approx. 45 min)
what kinds of behaviour are bias crimes
when is the Police obliged to act?
I fell victim to a crime – and what next?
my rights and obligations as a victim
Practical exercise on descriptions of specific behaviors: is this a crime? (20 min)
Questions from participants (25 min)
The meeting will be held on 17th November at 1.30 pm.
To participate, please register through this link: https://forms.gle/hdo7YCMRa9o29sQL7
Application deadline: 12th November 2020
More information can be found on our website: http://welcome.uw.edu.pl/crimes-motivated-by-prejudice-online-meeting/
Please also join Facebook event: https://www.facebook.com/events/367864871167416/
---
03 lutego 2020
---
04 grudnia 2019
Due to traning course on 5-6 December International Section of the Office for Student Affairs will be closed.
---
15 maja 2019
Meet people from all over the world, learn about their countries and culture, taste foreign cuisine, and take part in multiple workshops, meetings, and debates. All in one place and one time. Visit Miasteczko na styku kultur – Cultural Hot Spot UW on Main Campus UW on May 17 and discover multicultural side of University of Warsaw!
UW Students' Union's Board together with Welcome Point and Volunteer Centre of the UW invite you for shared exploration of Miasteczko na styku kultur – Cultural Hot Spot UW. The event will take place on UW's Main Campus on May 17 from 10:30 AM to 6:00 PM and will include:
– meetings with representatives of students' organizations as well as with foreign students of UW who will present cultures of their countries (e.g. Belarus, Bhutan, China, Japan, Nigeria, Rwanda, Turkey, Spain, Ukraine, Vietnam) during workshops, displays, and conversations. Place: Main Courtyard;
– set of debates and meetings with special guests who will raise subjects such as: international voluntary service, traveler's ethics, ways to travel. Place: Auditorium Building (Faculty of Political Science and International Studies);
– food-truck area where you will be able to taste cuisines from different corners of the world. Place: Main Courtyard.
This is the first edition of our event and, as head of the Welcome Point, Katarzyna Basisty, says: "it is the answer to needs of students who come to the University from all over the world. They want to show us their countries and cultures that shaped them. They have loads of positive energy to share so let's learn from them!".
At the UW there are more than 4 800 international students and PhD candidates. Ukrainians (959) and Belarusians (748) constitute the largest groups. There are also many students from Spain (310), Italy (300) and China (263).
Do you want to be up to date and learn all details of Miasteczko na styku kultur – Cultural Hot-Spot UW? Join us on Facebook.
Organizers: UW Students' Union's Board, Welcome Point UW, Volunteer Centre of the UW.
http://welcome.uw.edu.pl/miasteczko-na-styku-kultur-cultural-hot-spot-uw-2/
https://www.facebook.com/events/329528814403184/
---